Discussion Starter
·
#1
·
https://riders.drivemag.com/ww/main
Search by motorcycle brands
Show / Hide Prices & Specs
Ducati Supersport S Road Test: Real World Sportbiking
Ducati Supersport S Road Test: Real World Sportbiking
Ducati introduces a standalone real world sporting motorcycle done right
0
First test of Ducati's new everyday sportbike – a real-world motorcycle that combines practicality with sporting allure, as well as drop dead good looks. 937cc version shared with Multistrada 950 and Hypermotard 939 of the Testastretta 11º desmo V-twin motor produces 113 bhp at 9,000 rpm, but with wide spread of power.
Ducati has made some pretty uncompromising customer streetbikes since 1972, the year it was catapulted into the big time by Paul Smart's victory in the Imola 200 on a factory Formula 750 racer using its 750GT everyday model's V-twin engine and frame, complete with mounting lugs for the centre-stand, and desmo cylinder heads on the valve-spring motor. The single-seat green-frame 750SS – as in Super Sport – which followed in 1974 was the first of several race replicas with lights and a horn that the Italian company has offered down the years since then. But, ever since 1993 and the advent of the Massimo Tamburini-designed 916, it's worked the other way round in creating these, compared to its previous
modus operandi
of making a racer out of a sporting streetbike, and then tilting for titles with it. The Michelangelo of motorcycles didn't brook compromise, and ever since he created the model that's widely accepted as a landmark in desmo V-twin engineering excellence, his successors' strategy at the Bologna factory has been to create the racebike first, then hang lights on it, and comfort be damned. Anyone who's ever ridden a 916 or Panigale 1199/1299 for more than a couple of hours in everyday road conditions will tell you that's so - but then how else do you win 14 World Superbike titles in 29 years?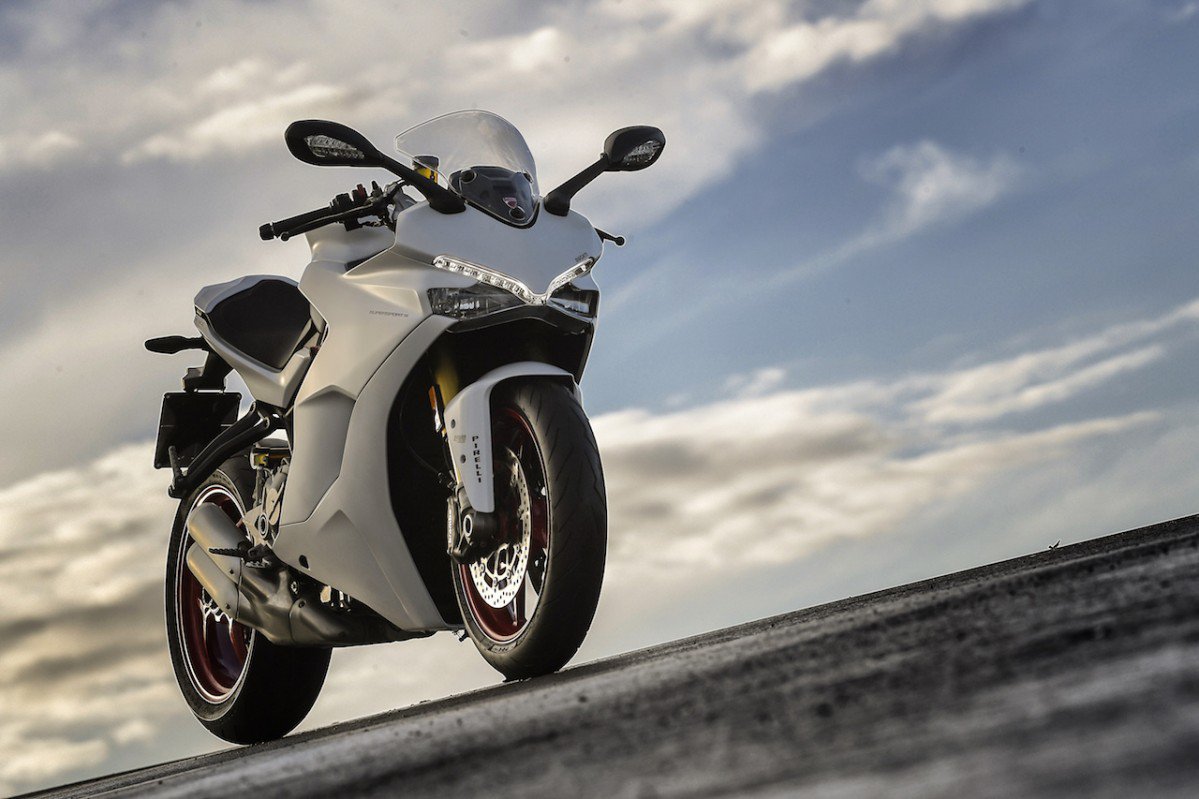 Mind you, Ducati's always had a place in its catalogue for real-world roadbikes with a sporting flair, from the original 750SS's 1972 yellow-tank 750 Sport valve-spring predecessor, through to the downsized 800 Supersport and its even more downscale 800 Sport sister bike introduced in 2003, which died a death in 2006 as a happy example of two-wheeled euthanasia - they weren't really very good bikes. Since then there's been no equivalent practical sportbike alternative in Ducati's catalogue to its title-winning Superbikes, but now the company is making a stab at rectifying this with the advent at Intermot last October of the new SuperSport and its upscale SuperSport S sister model. These have now entered production at a price of Euro 12,990 in Italy (so, including 22% local tax) for the SuperSport, which is only available in red with black wheels, whereas the Supersport S replete with Öhlins suspension and various other goodies, costs Euro 14,690 in the same colours, or Euro 200 more in a Star White Silk livery with red wheels.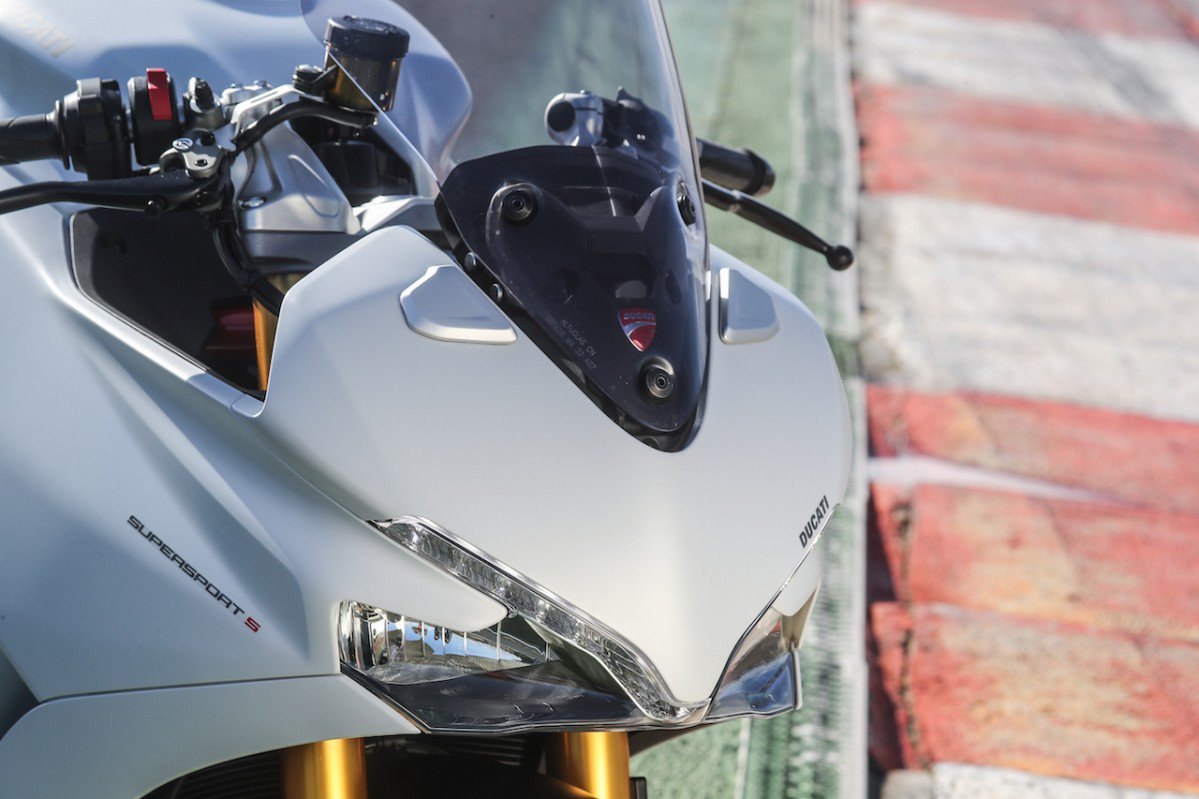 A cynic would say that both of these bikes are in many ways parts bin products, for they employ the same identical trellis spaceframe as the Monster 821, fitted with a retuned version of the same punchy 937cc Testastretta 11º liquid-cooled motor as found in the Multistrada 950 and Hypermotard 939. But after spending a glorious late winter/early spring day on a SuperSport S chasing Ducati mileage tester Leo Serafino – a man who covers 400km/250 miles day in, day out, all year round on successive desmo V-twin models – along his favourite route comprising little-known roads up in the mountains behind Bologna, I can honestly tell you that the whole of this bike is infinitely greater than the sum of its two parts. It's a happy example of desmodromic fusion cuisine, and in the same way as its Multistrada 950 cousin lays serious claim to being a better real world ride than its big sister 1200 model, so the SuperSport provides a level of practical performance coupled with sporting satisfaction in everyday riding on all kinds of roads, that even the comparable 959 Panigale junior version of the Davies/Melandri Superbike contender, can't match.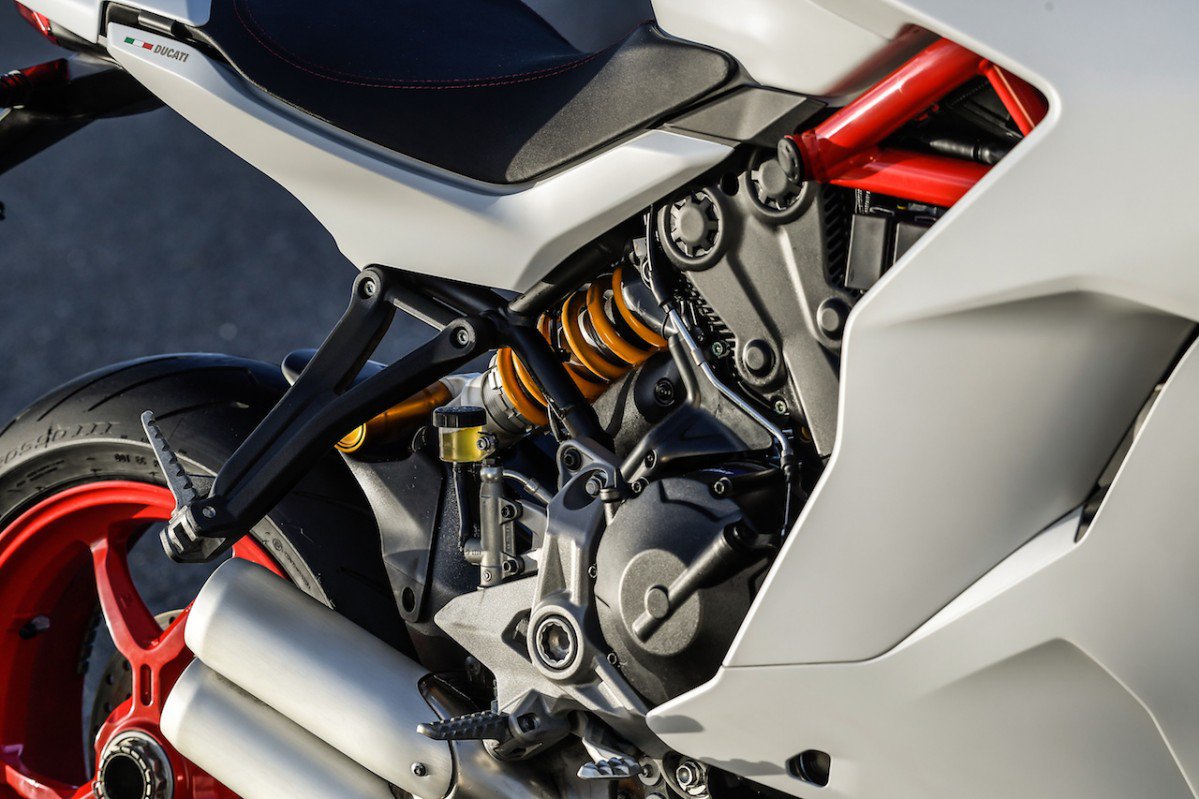 However, Ducati hasn't cut corners in producing this motorcycle, because the crankcases and cylinder heads of its Testastretta 11º motor have been redesigned to permit it to be employed here as a fully-stressed chassis member, thus saving weight without sacrificing rigidity. So the trellis frame connects to the front cylinder head, and the steel subframe to which the dual seat is mounted embraces the rear one, while the
monobraccia
single-sided swingarm pivots in the crankcase. The complete bike scales in at a claimed kerb weight of 210kg, complete with oil, water and a full 16-litre fuel tank giving a range of around 260km, or 184kg dry. That also includes the cleverly designed exhaust, which has somehow been contained within the space beneath the motor, complete with the catalysts to achieve Euro 4 compliance, with its twin pipes exiting just before the rear wheel in a way we'd been led to believe would in future be impossible because of Euro 4. This and the sleek, seamless sweep of
progettista
Clement Giugliano's sexy styling with its abbreviated bellypan (presumably to make space for the silencer package) and the fairing bolts all hidden from view, makes the Supersport S eye candy that still delivers the level of performance that its appearance leads you to expect.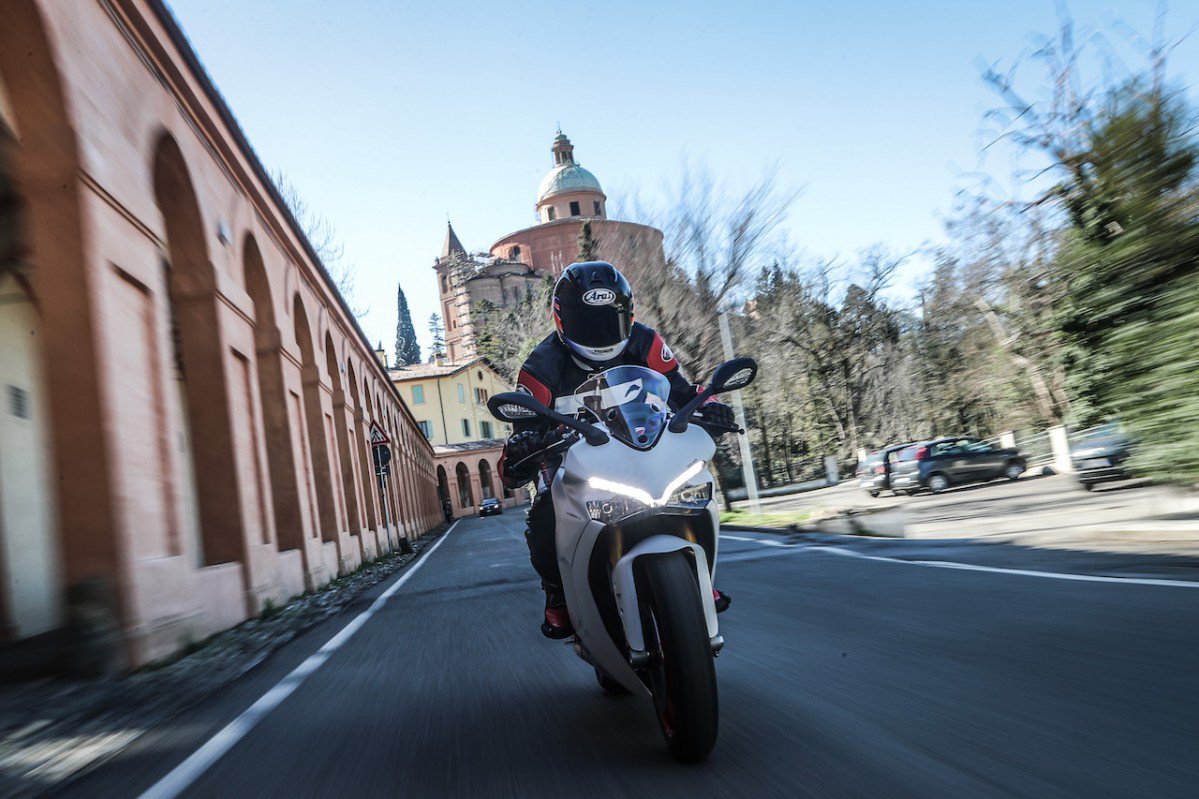 But it does so in a completely practical and accommodating way, thanks for starters to the riding position. This sees the 810mm high two-part seat 20mm lower than on the 959 Panigale, and though it's quite thinly cushioned to preserve that seat-of-the-pants involvement with the motorcycle that's an essential part of any sportbike's DNA, its scalloped design hugs the cheeks of your posterior in a supportive way that makes a full day ride like mine untiring. The passenger seat, by the way, is adequate without being spacious, and can be covered on the stock SuperSport by a colour-coded cowl that's included as standard on the S. And the way the seat narrows where it meets the tank will make this a good bike for shorter riders, including women. The screen's height is also adjustable with a single hand, offering a choice of two positions 50mm apart.
But comfort is further enhanced by the SuperSport's slightly lower, further forward footrests, and especially its raised clipon handlebars which are mounted to the top of the fork tubes where these protrude through the upper tripleclamp. Their risers increase their height an extra 75mm and bring them 150mm closer to the rider than on the 959 Panigale, thus delivering a more upright riding stance. That's not to say that you can't assume a tucked down, chest-on-the tank position when necessary, as I repeatedly had to do to keep up with the swift Serafino on roads he knows like the back of both hands, just that when riding through towns or in more relaxed mode out in the country, you don't have nearly as much weight on your wrists and shoulders as on the 959 Panigale. Plus, on the SuperSport you have better handlebar leverage in negotiating tight turns anywhere from climbing junior mountain passes, to carving corners in city streets – a fact which somehow discourages you from hanging off the side of the bike in turns. It's more comfortable and just as effective in terms of maintaining turn speed to stay seated in place, and go with the flow in flicking the Ducati from side to side in a sequence of bends. It's sufficiently agile and easy-steering for you to do this, in spite of the long 1478mm wheelbase which helps deliver a spacious riding position, without making the SuperSport seem large, or cumbersome.
This new Ducati reminds me in some ways of the Triumph 675 Daytona, which is taller and a little longer and consequently less cramped than its Japanese 600 Supersport rivals, but the SuperSport also has the extra adjustability of the KTM RC8 in helping you find a riding position that suits you. OK, it's become a cliché to talk about real world riding capability, but this is exactly what the new SuperSport sisters deliver in spades, while still retaining all the allure and appeal of the svelte-looking sportbikes they undoubtedly are. They're true all-rounder bikes you can envisage riding every day, including to work when the optional twin 22-litre side bags will come in useful, without discomfort in tackling the morning commute. There's no top box option, though – practicality does have its limits in sporting terms!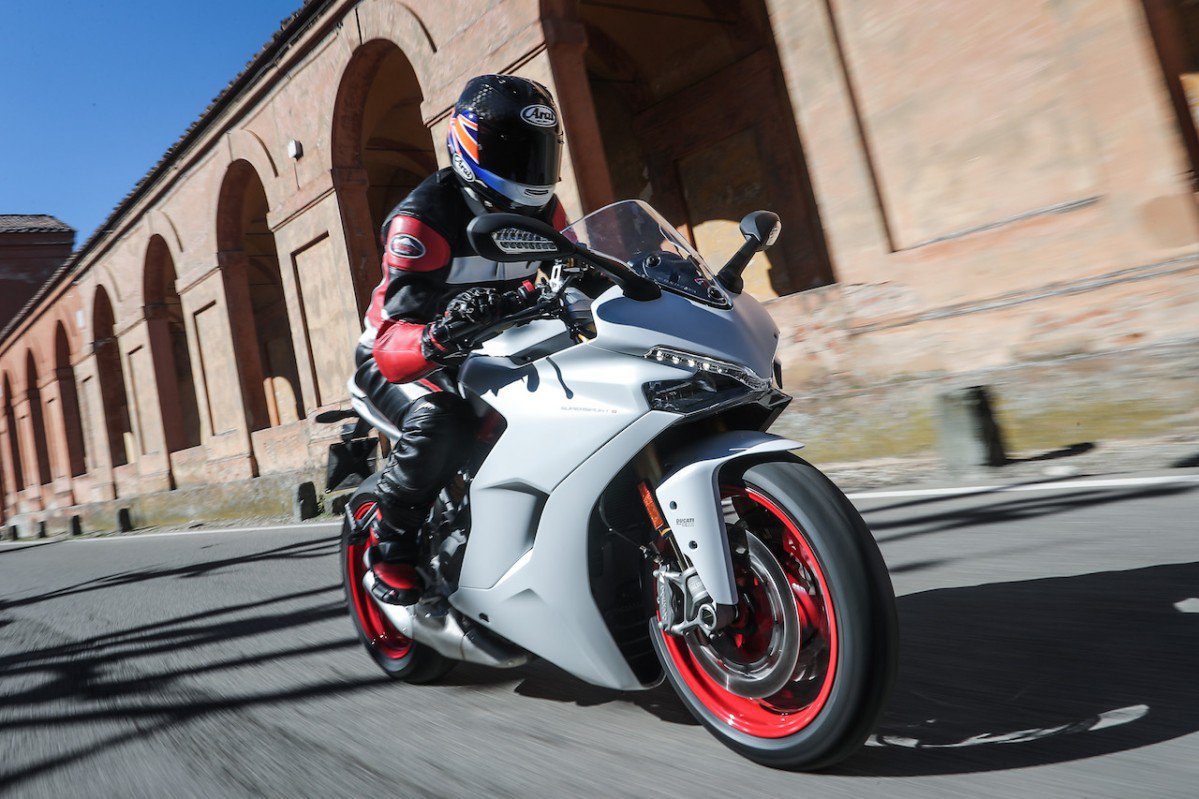 That practicality is further achieved by the way Ducati's engineers have remapped the 94 x 67.5 mm 937cc Testastretta 11º motor to deliver performance matched by flexibility, with a wide spread of both power and torque that extends right down the revscale. So while peak torque of 96.7Nm/71.3lb-ft is delivered at just 6,500 rpm, no less than 80% of that is produced between 3,000 and 9,500 revs, according to Ducati – and I believe them. For with peak power of 113 bhp/83.1kW on tap at 9,000 rpm, some way before the 10,500 rpm limiter, there's hardly any fall-off before the soft cutout when the ride-by-wire digital throttle stops building revs. So torquey is this motor that you can accelerate wide open in top gear from 3,000 rpm upwards without a hint of transmission snatch, en route to the 100mph/160kmh mark at 6,800 rpm. This is an extremely flexible friend of a desmo sportbike – and one that sounds pretty nice, too, with a punchy-sounding V-twin rumble from those twin stacked silencer cans, which are nonetheless Euro 4-compatible.
The SuperSport's motor has redesigned oil passages within the desmodromic cylinder heads that also have revised porting, with a 12.6:1 compression ratio. 53mm cylindrical (not elliptical) throttle bodies are fitted, and a dedicated Continental ECU (compared to the Bosch unit on the Multistrada 950 which has the same essential engine package) offering three separate riding modes. Of these, Sport and Touring produce the 937cc motor's full power, but each with a different degree of urgency, whereas Urban (aka Rain) peaks at 75 bhp. Switching between modes is easily done on the go via the controls on the left handlebar, and each of the three has different default settings for the three-stage Bosch 9MP ABS and switchable eight-level DTS traction control programmes. These comprise the DSP/Ducati Safety Pack included as standard on both versions, but without Bosch's IMU/Inertia Measurement Unit being fitted, there isn't the high end Cornering ABS found on some other Ducati models, nor is the TC lean-angle sensitive.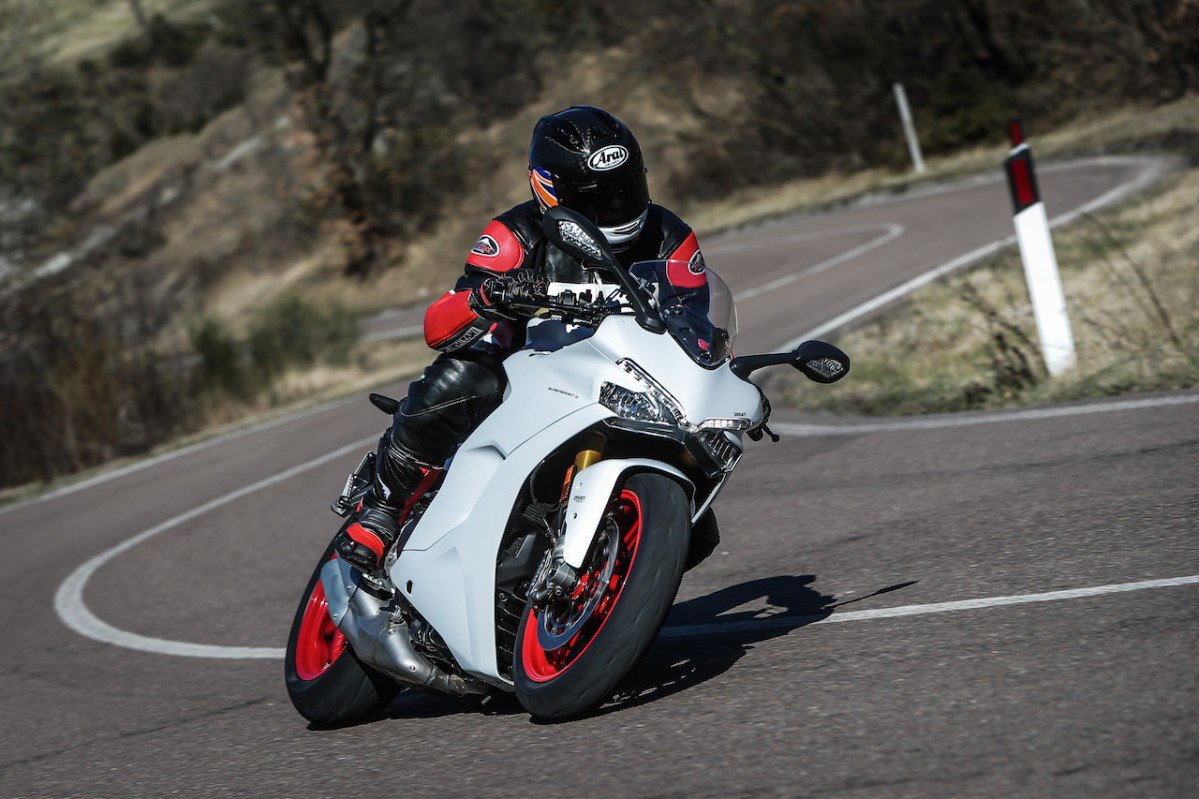 Still, there's a very accessible and ultra-satisfying delivery of both torque and power in both Sport and Touring modes, with a clean, zesty pickup from a closed throttle without any sign of jerkiness or over-aggressive fuelling, even in Sport mode where there's a crispier power delivery than in Touring. That ultra-flat torque curve means you needn't use the six-speed gearbox too assiduously, because just as with the Multistrada 950 it shares the engine with, with such plentiful grunt at your disposal you're always in the right gear. That's a pity in a way, since the powershifter gearchange fitted to the SuperSport S (and optional on the base model) is absolutely stellar, delivering clean, smooth, effortless shifts without asking you to use the clutch in either direction. The subtle little blip you get from the electronic throttle as you tap the shift lever downwards under braking for a turn, is really pleasing, as well as making the bike less tiring to ride. In fact, when you do have to use it – as you must do in Urban mode, when the quickshifter is curiously deactivated - the oil-bath clutch has a very light lever action, making it easy and untiring to operate.
The Supersport's chassis package delivers equally relaxed yet capable steering that's also reassuring, where you have the feeling that you're always in charge. Its steering geometry is comparable to the 959 Panigale's with a 24º rake to the fork and 91mm of trail (the Panigale has the same rake, but 96mm of trail though a shorter 1451mm wheelbase). This makes the SuperSport sufficiently light and agile to be satisfying, without feeling nervous – just right. OK, some tyro sportbikers will complain that the handling's not exactly thrilling, but for that Ducati already has the Panigale. Thanks to the riding position, the SuperSport delivers a different kind of experience – it's confidence-inspiring and friendly rather than taxing to ride hard in something approaching anger. A key factor in this is Ducati's praiseworthy decision to fit a narrower 180/55-17 Pirelli Diablo Rosso III (supposedly better in the rain than the II-series) on the SuperSport, which surely contributes to the bike's light steering and easy changing of direction. These tyres by the way gave faultless grip exiting a turn on a variety of road surfaces and in both Sport and Touring modes, with the occasionally flickering red dash light showing that the DTS traction control was doing its job. Satisfying is the word for how readily the SuperSport rewards the traditional slow in/fast out riding style when cornering the bike. It's a confidence-inspiring ride.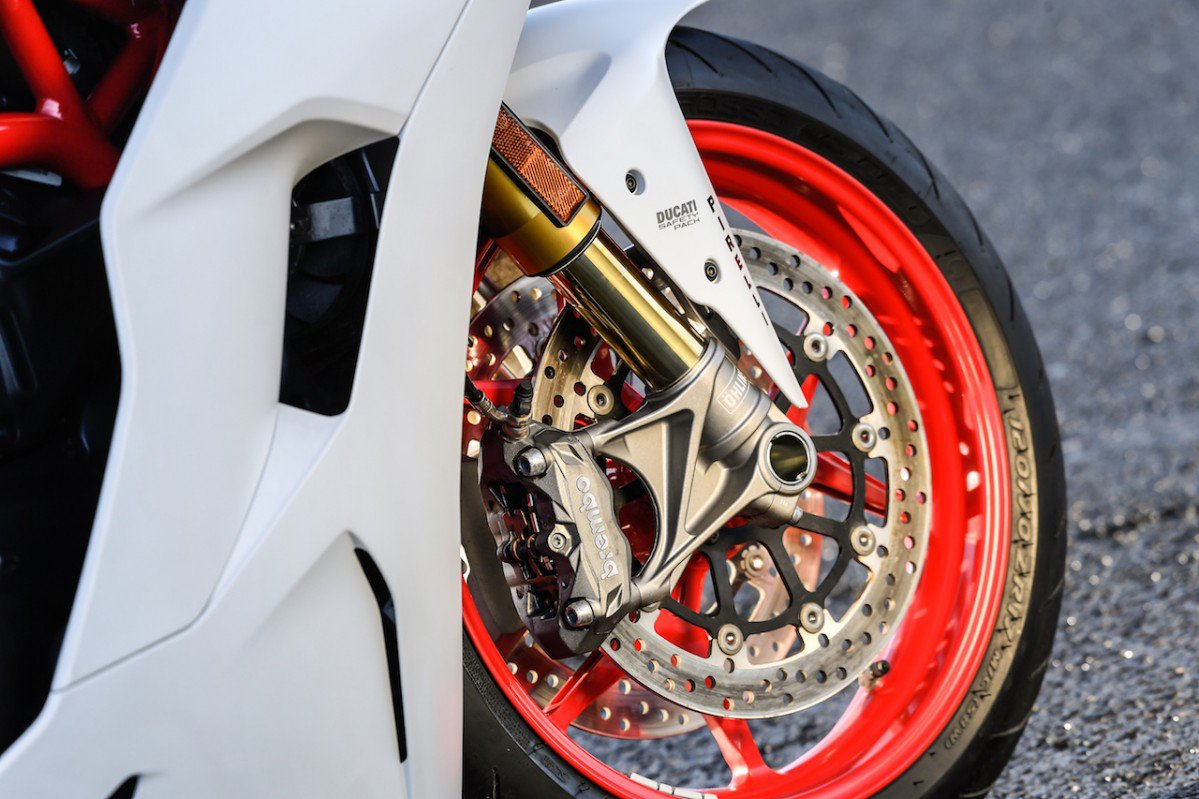 No IMU also means there's also no Skyhook semi-active suspension here, as found on the uber-versions of the Panigale family. But the fully-adjustable 48mm Öhlins upside down fork on the SuperSport S is not only compliant when you hit a series of bumps cranked over at speed – riding at this time of year in the mountains of Italy, you always get a lot of road rash, because of the damage caused by ice and snow during the winter, before the authorities have had a chance to patch it – but it also gave surprisingly good ride comfort running over cobblestones in towns, or the sealing joints of concrete freeways. The stock version has an equally fully adjustable 43mm Marzocchi fork and Sachs shock instead of the Öhlins, but I must defer judgement of this package as I didn't get the chance to try it. And in terms of stopping, the twin 320mm front discs with two-pad four-piston Brembo M4.32 Monoblock radial calipers combine with the 245mm rear disc and its twin-piston floating caliper to haul the SuperSport down very nicely from high speed.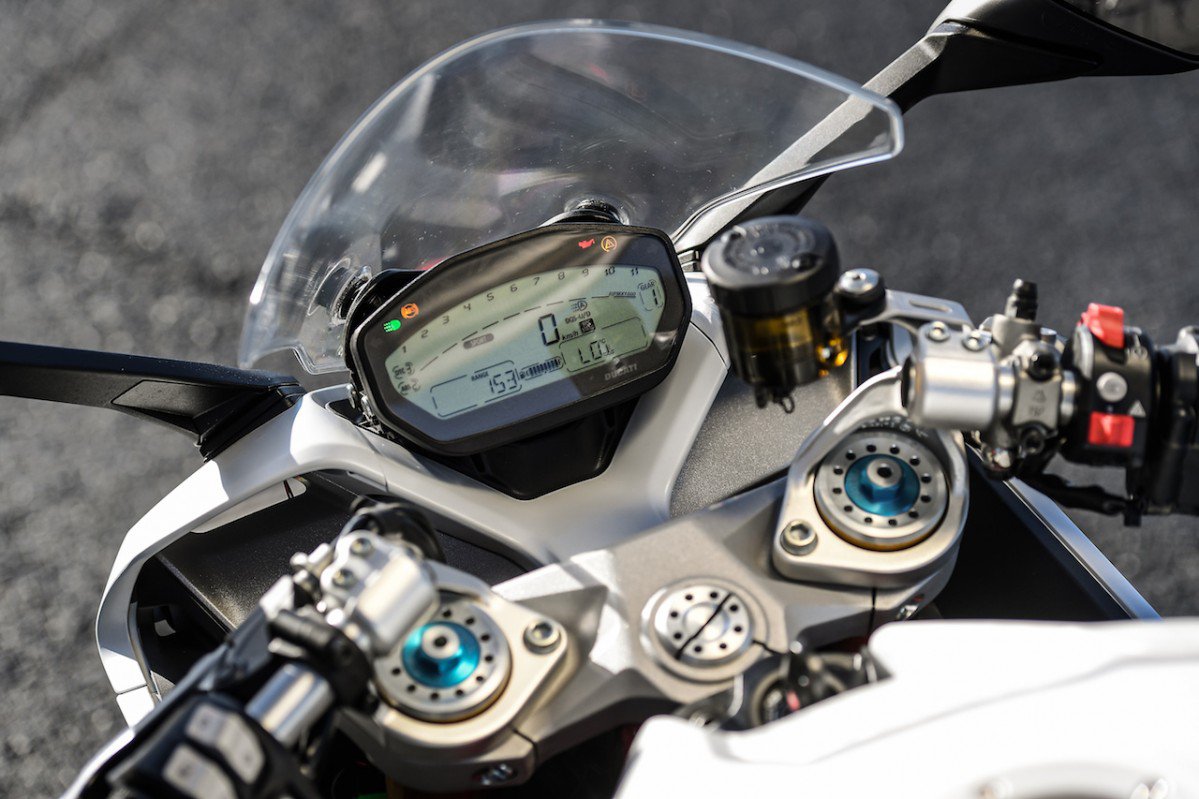 The SuperSport doesn't have the full-colour TFT dash of some other Ducati models, but instead comes equipped with an easily readable monochrome LCD unit that displays engine mode and other data clearly enough, although I'd have liked the gear selected reading on the right to be framed by a plastic surround as on the Multistrada 950, which has the same essential dash. Little things mean a lot! The wide-spread mirrors containing integral direction signals can't be faulted in giving a good rearwards view beyond your shoulders.
No doubt about it – this is a very clever motorcycle, that in many ways lives up to the old cliché that less can be more. Less outright performance can indeed equal more riding pleasure thanks to greater practicality without sacrificing satisfaction, all delivered in an accessible, affordable, ultimately more user friendly and equally engaging way versus its Panigale sister models – and which looks just as drop dead gorgeous in the metal. For anyone who's dreamed of having a bright red (OK – white, too!) Italian desmo V-twin sportbike sitting in their garage, but who's not too sure they have anything vaguely approaching the riding skills of Chaz Davies that they think is needed to be able to master it, or especially someone who can only afford one motorcycle, and who needs something that combines everyday practicality with sporting allure, here is your bike. Good one, Ducati.
Photo credit:
Milagro/Thomas Maccabelli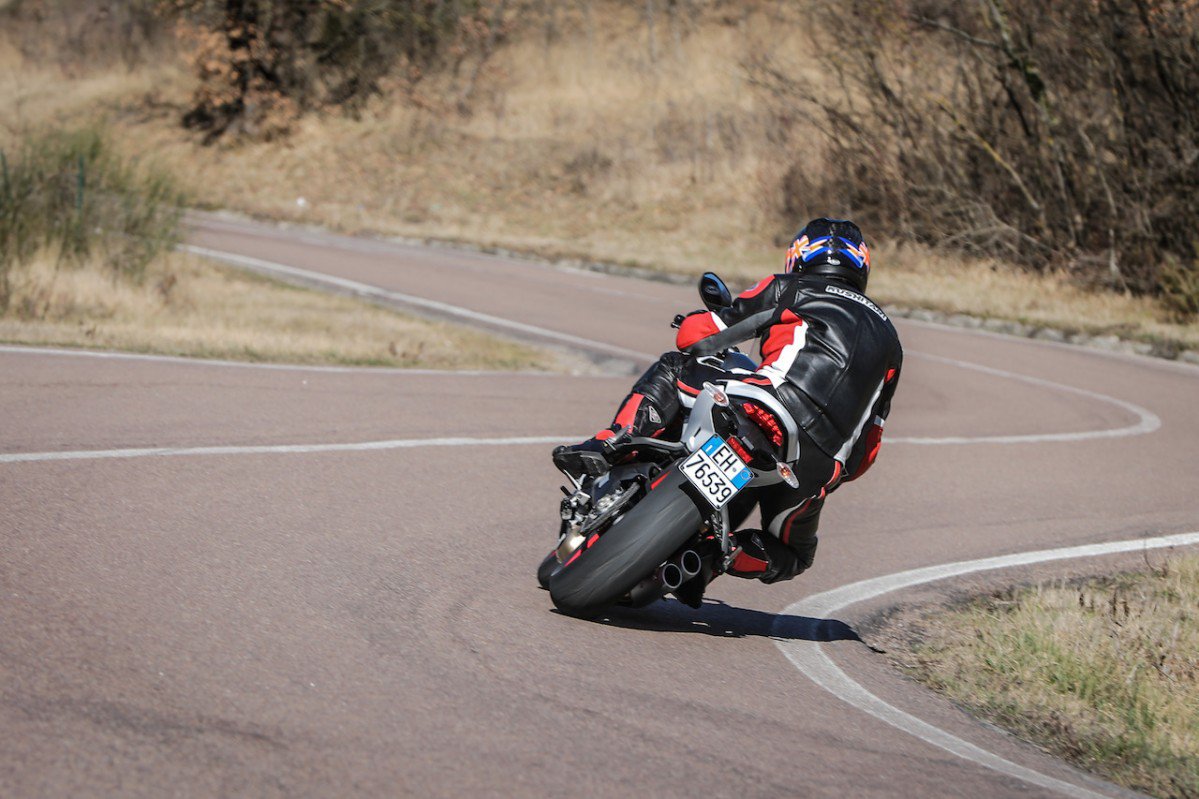 alan cathcart
ducati supersport s
ducati supersport s test ride
2017 ducati supersport s review
ducati supersport review
Alan Cathcart
March 22nd at 4:02pm
March 22, 2017 16:02 March 23, 2017 20:41 DriveMag
Related news
See more amazing stuff
Previous
https://drivemag.com/ww/news/ford-talks-about-using-bamboo-in-car-construction
Ford talks about using bamboo in car construction
It sounds like it's planning on using the material for more than just interior decoration

https://drivemag.com/ww/news/ford-talks-about-using-bamboo-in-car-construction
https://riders.drivemag.com/ww/news/ryca-custom-motorcycles-kits
RYCA Custom Motorcycles Kits
Or how to build your dream machine with basic tools and a kit from RYCA.

https://riders.drivemag.com/ww/news/ryca-custom-motorcycles-kits
https://drivemag.com/ww/news/bbr-turbocharges-mazda-mx-5-s-2-0l-engine-to-248-hp
BBR turbocharges Mazda MX-5's 2.0L engine to 248 hp
The UK-based tuner addresses the Miata's power deficit

https://drivemag.com/ww/news/bbr-turbocharges-mazda-mx-5-s-2-0l-engine-to-248-hp
https://drivemag.com/ww/news/the-10-worst-car-commercials-that-ever-aired-in-the-united-states
The 10 worst car commercials that ever aired in the United States
The cringe is too strong with these

https://drivemag.com/ww/news/the-10-worst-car-commercials-that-ever-aired-in-the-united-states
https://boats.drivemag.com/ww/news/a-spanish-ferry-loses-control-and-strikes-las-palmas-harbour
A Spanish ferry loses control and strikes Las Palmas harbour
The accident happened due to an electrical failure

https://boats.drivemag.com/ww/news/a-spanish-ferry-loses-control-and-strikes-las-palmas-harbour
https://drivemag.com/ww/news/apocalyptic-looking-rhino-gx-tested-by-jay-leno
Apocalyptic looking Rhino GX tested by Jay Leno
The Rhino GX makes the Hummer H2 look almost civilized

https://drivemag.com/ww/news/apocalyptic-looking-rhino-gx-tested-by-jay-leno
https://drivemag.com/ww/news/ford-talks-about-using-bamboo-in-car-construction
Ford talks about using bamboo in car construction
It sounds like it's planning on using the material for more than just interior decoration

https://drivemag.com/ww/news/ford-talks-about-using-bamboo-in-car-construction
https://riders.drivemag.com/ww/news/ryca-custom-motorcycles-kits
RYCA Custom Motorcycles Kits
Or how to build your dream machine with basic tools and a kit from RYCA.

https://riders.drivemag.com/ww/news/ryca-custom-motorcycles-kits
https://drivemag.com/ww/news/bbr-turbocharges-mazda-mx-5-s-2-0l-engine-to-248-hp
BBR turbocharges Mazda MX-5's 2.0L engine to 248 hp
The UK-based tuner addresses the Miata's power deficit

https://drivemag.com/ww/news/bbr-turbocharges-mazda-mx-5-s-2-0l-engine-to-248-hp
https://drivemag.com/ww/news/the-10-worst-car-commercials-that-ever-aired-in-the-united-states
The 10 worst car commercials that ever aired in the United States
The cringe is too strong with these

https://drivemag.com/ww/news/the-10-worst-car-commercials-that-ever-aired-in-the-united-states
https://boats.drivemag.com/ww/news/a-spanish-ferry-loses-control-and-strikes-las-palmas-harbour
A Spanish ferry loses control and strikes Las Palmas harbour
The accident happened due to an electrical failure

https://boats.drivemag.com/ww/news/a-spanish-ferry-loses-control-and-strikes-las-palmas-harbour
https://drivemag.com/ww/news/apocalyptic-looking-rhino-gx-tested-by-jay-leno
Apocalyptic looking Rhino GX tested by Jay Leno
The Rhino GX makes the Hummer H2 look almost civilized

https://drivemag.com/ww/news/apocalyptic-looking-rhino-gx-tested-by-jay-leno
Next
Give us a tip
|
Terms of Service
|
Privacy Policy
|
About us
Our Company